The Best Way To Improve Indoor Air Quality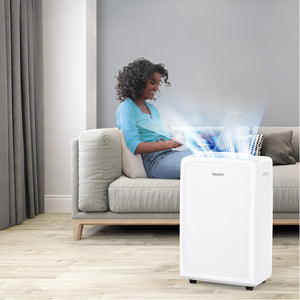 More and more people believe that the quality of life is improving and the living environment is getting worse. Air, water, food, and everything that comes into contact with people are contaminated. Especially air quality.
Wikipedia has long been concerned with environmental issues and has introduced environmental management methods and equipment in various aspects.

We are very willing to popularize environmental knowledge for everyone. For example, high efficiency particulate air "HEPA" is a device for air purification. HEPA-compliant filters are widely used in medical equipment and automobiles. It can be used by airplanes and homes. The air contains tiny dust intercepting filters. The standard for filters is set by the US Department of Energy. For particles having a particle size of 0.3 microns, the filtration effect is about 99.97% of DOP. High efficiency filters are typically used to achieve 99.99% interception efficiency, as well as higher or relatively low grades, and are available in all countries. The filter material of the high efficiency filter is usually made of randomly arranged chemical fibers (for example, polypropylene fibers, i.e., polypropylene or polyester fibers, i.e., polyester nonwoven fabric) or glass fibers, and has a diameter of about 0.5. To 2.0 microns. The floc structure is mainly used to remove particles of 0.5 μm or larger. Filters for air purification based on low to high filtration efficiency are called coarse filters, medium efficiency filters, secondary high efficiency filters and high efficiency filters.

According to the US Department of Energy (US Department of Energy, US Department of Energy) and most US industry standards, HEPA filters should filter at least 99.97% of air ≥ 0.3 micron (μm) of air. The minimum airflow resistance or pressure drop of the screen is typically 300 Pascals at its heading flow rate.

In fact, you can purify the air yourself, especially indoors or in the bathroom or kitchen. Then, we launched the YAUFEY dehumidifier, special process air purifier, which has two functions of purification and dehumidification. It can be used to purify up to 4500 SQ FT of air and remove up to 9 gallons of water per day (the beer is measured as 70 pints). Suitable for wildfire smoke and ash, suitable for allergy seasons.

Most importantly, the YAUFEY team offers a one-year buyer guarantee (one year free extension) and lifetime support. On average, the filter should be replaced every 6 months. 
1 Response
Leave a comment